Crashing computer systems and network devices can be detrimental to the continuity of technology and business operations. Loss of power can cause potential database errors, leading to failing programs and devices resulting in loss of business work flow, downtime and thousands of dollars in labor or hardware for recovery attempts.
With aging power grids, the evolution of technology and a constant growing consumer demand; today's business environment is demanding more than ever before from the electric power supply. Because of this demand and a aging power supply system, businesses and homes are more susceptible to current changes from upstream power outages or power outages as a direct impact. If you are dependent on technology, protecting your technology data and assets from a potential unrecoverable crash needs to be a priority. Power continuity for core network infrastructure and computing systems is imperative and planning for a UPS (Uninterrupted Power Supply) needs to be properly planned and managed.
Here is a list of items to consider when designing or planning for a UPS system.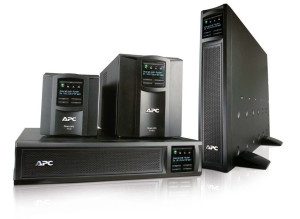 What type of power supply do you have or require?

Single Phase (small servers, switches, routers) or three phase (larger data centers, critical loads)
110V or 208V – 208v is recommended for mission critical high load devices
Outlet type i.e. L5 20R See: http://www.powerfig.com/nema-locking-chart.aspx

You may be required to change the outlet type to suite the UPS or your requirements

Outlet breaker size i.e. 15AMP, 20AMP or 30AMP breakers

Type of services i.e. PBX or Servers & switches or old servers

Older machines may need a consistent voltage supply with less current changes and may require a more robust UPS system

Required watts or amperage needed on normal load, start up and heavy load i.e. Current output is 4AMP or normal and 6AMPs on startup/heavy load. It is recommended to leave about 4 AMPS below the breaker size.

How much expansion will you require?

Run time needed at how many WATTS or AMPS.

How long do you need to maintain power when on UPS?
Do you want redundancy if a battery fails (N+1)?

 SNMP or Network interface Module

SNMP module can be used for monitoring up time, power changes and also automatically powering down outlets as needed

Rack mounted or floor stacked?
Maintenance

Rule of thumb is to replace batteries every 24 months
If you provide this information to your engineer, or power technician they can determine the appropriate UPS unit for your technology.
Contact a Global IT support technician for assistance in engineering the right UPS systems for your technology.