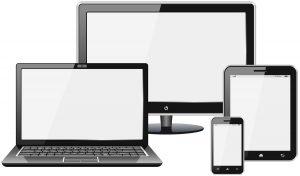 Mobile has demonstrated that it is here to stay. As more and more users begin to utterly depend on their mobile device to connect them with the world, it has become even more essential for companies to institute an effective mobile strategy for their website. Since new mobile devices appear every day, web designers must figure out a way to make sure that their websites are compatible with every new gadget that shows up on the market. Responsive web design is one of the most popular methods of achieving this goal.
What is Responsive Web Design?
Although responsive web design (RWD) is still in its early stages, Google already supports the technique as the best practice for developing a mobile website. An article by Ethan Marcotte spawned the concept of RWD as Marcotte toyed with the idea of transferring the idea of responsive architectural design to web design. Essentially, RWD is a system of building a site that responds to user behavior so that users enjoy a high quality experience no matter what device is used. There are three primary characteristics of responsive web design:
A fluid grid
Response to media queries
Flexible images
With these three elements, a website is capable of shifting and adapting for a user based on the platform, screen size, and orientation. Fluid grids allow a website to quickly reconfigure itself to accommodate a new device with appropriate size, margins, and spacing. Different sections of a layout are assigned to different segments of the grid so that the layout can shift to promote the most relevant information.
By responding to CSS media queries, RWD is capable of using the appropriate configuration of the flexible grid. The smallest screens may only see one component of the grid at a time, while larger devices will trigger a more comprehensive view of the site. RWD uses the media queries to detect the type of device, so in addition to presenting the suitable grid the site can adjust its resolution and configure itself for a landscape or portrait view.
The final element of responsive web design is flexible images. Images are designed so that they also adjust to fit a device through a number of methods, such as:
Hiding or revealing portions of the image
Sliding composite images
Scalable images
Thanks to these techniques, viewers will never again be frustrated by an image that is too large or refuses to properly load on a mobile device. RWD ensures that images as well as other media are appealing and manageable in a mobile format.
The Growth of Mobile
The need for such a revolutionary method of mobile web design is the direct result of the boom in mobile device usage in recent years. The statistics about the growth of mobile are staggering and are hard proof as to why it is essential for companies to expand their marketing campaign to target mobile devices. Consider the following statistics:
84% of people surveyed around the world say they couldn't go a single day without using their cell phone.
Global mobile data traffic grew by 70% in 2012, while smartphone usage increased by 81%.
45% of American adults own a smartphone and 31% of them have a tablet.
In 2013, the number of mobile-connected devices is projected to overtake the number of the world's population.
If your company is not targeting this massive audience, you are certainly losing opportunities to engage consumers and promote your brand.
A Versatile Viewing Experience
So why is RWD so great? One of the most popular benefits of RWD is that it eliminates the need for developing a unique site for every device that appears on the market. Theoretically, RWD prepares your site to handle any new gadget that will appear in the near future, however bizarre or revolutionary it may be. Streamlining your web development needs to one design reduces the time and money necessary for an effective website.
However, RWD is not simply beneficial for your company. It also offers a number of advantages to visitors to the site, primarily the all-important high quality viewing experience and complete versatility. Since consumers are beginning to buy more tablets, notebooks, and smartphones than computers, the quality of the viewing experience of your mobile site is just as important as your original site.
As RWD adapts to each type of device, your site can enable special features for touch screens, such as links and buttons that are thumb-friendly or the ability to swipe between different columns. With RWD, the website functions seamlessly through any device so that users can access all of the information on your site from any gadget with no decrease of site quality.
Optimizing For Search Engines
As mentioned above, Google is a strong supporter of responsive web design, largely due to the fact that RWD works well with search engines. Search engines appreciate RWD because it allows for clean, organized code that is easy to search and analyze.
In addition, RWD cuts out the risk of being penalized for creating duplicate content, since there is ultimately only one version of your site. If you were to set up a separate mobile site improperly, you would quickly incur a ranking penalty and therefore lose visitors and conversions. RWD lets your company maintain consistent information across the board.
Marketing Success With RWD
RWD is so effective that it directly increases the success of marketing efforts. For instance, sites that utilize RWD experience fewer abandoned checkouts because they are easier to use on mobile devices. Also, the time invested in your marketing campaign is more efficient because there is no need to continually update multiple sites. Furthermore, your analytics are immediately simplified since you only have one site to track.
In an increasingly mobile world, advancements like responsive web design can prove invaluable to your business. Although RWD may cost more initially to design and set up, the long-term benefits are invaluable. Responsive web design creates an innovative site so that your marketing endeavors can reach their full potential on every mobile device.