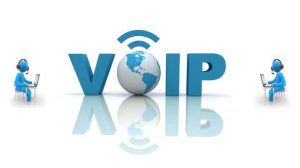 If you are one of the many SMB's (small to medium business) considering switching to VoIP(Voice over Internet Protocol) as a telephone solution, you might be asking yourself, what is VoIP? Why do I need VoIP and how much does it cost?
Facts about VoIP
VoIP in the simplest explanation is making calls over the internet. Instead of using traditional phone lines to make a phone call, telephones use internet bandwidth and go out as network traffic.  There are many variations to consider in terms of setup and equipment but in layman's terms, that's basically it.  A phone call made over the Internet.
Things to Consider
There are also few considerations that need to be made before making a switch to VoIP service. The number one question you need to ask yourself is, "Can my network handle VoIP? "
Remember, a VoIP system will have an impact on your network, not just in terms of usage but a physical impact as well. Many vendors require a managed network switch to be added onto the network where VoIP will be installed. When configured correctly, a managed switch will allow for traffic policies or QoS, alleviating congestion around the VoIP traffic and allowing VoIP to pass through as a priority.
Do you have the correct network monitoring tools and do you understand what to look for to help isolate network issues?
Do you have the physical room in the network rack for the device?  Depending on the number of users, you might need to add two or three devices.
Also, your network doesn't just consist of computers and servers. One of the most overlooked and yet one of the most important details of your network is "Cabling". Many vendors recommend a minimum, Cat5e cable per phone. Depending on how you wish to set up your new systems, you might need to upgrade your existing cabling to Cat6.
Is there enough bandwidth for VoIP?
Many SMB companies are using DSL or Cable for high-speed internet. When upgrading to a VoIP solution, DSL or Cable may no longer be an option when using VoIP. Without sufficient bandwidth and a consistent reliable internet connection, the quality of VoIP calls is negatively affected resulting in dropped calls, echo, loss of words, noise that will only slow down productivity and leave customers questioning.
Lastly, the final component to a successful VoIP installation is engineering. Many companies have in-house IT Professionals and while they may be great at keeping your computers running smoothly they might not be familiar with all the nuances of VoIP. Therefore utilizing professionals specifically trained to work on VoIP systems and Network infrastructure is of utmost importance to secure a smooth transition and professional installation.
Global IT is a choice leader in telecom and data solutions.  Our team of certified network design engineers, licensed contractors, and support staff, can help design a network that's right for you and ensure a smooth transition.